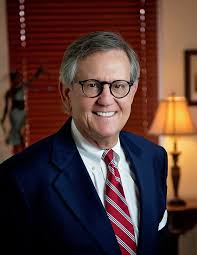 hank@lawfirmokc.com
EDUCATION
University of Oklahoma, B.A. in English, Philosophy and History 1972
Georgetown University Law Center, Washington, D.C., J.D. 1977
ADMISSIONS
State of Oklahoma
Western, Eastern and Northern Federal District Courts of Oklahoma
United States Court of Appeals for the Tenth Circuit
United States Supreme Court
United States Court of Appeals, Federal Circuit
Henry A. "Hank" Meyer, III, is an experienced trial attorney that has successfully represented clients in complex cases before the state and federal district courts in Oklahoma, as well as the Oklahoma Supreme Court, the Tenth Circuit Court of Appeals, U.S. Court of Appeals for the Federal Circuit, and the United States Supreme Court. His experience includes:
Acting as co-counsel and Chief Liaison Attorney for the Plaintiffs' team on behalf of the
State of Oklahoma's lawsuit against the tobacco companies, which resulted in a
settlement of $2.3 billion for the State of Oklahoma
Prosecuting national and state-wide class actions, including filings at the U.S. Supreme
Court
Handling legal issues that arise relevant to the rights associated with oil and gas and
mineral rights, and rights and duties of corporations and individuals
Prior to becoming an attorney, Hank was the Legislative Assistant to the Honorable James R. Jones, in the U.S. House of Representatives, who was from Tulsa, Oklahoma, and served on the Ways and Means Committee from 1973-1977. He practiced at Hieronymus, Hodgden & Halley – later becoming Hieronymus, Hodgden, Halley & Meyer, in Woodward, Oklahoma from 1977 – 1994. He became a partner in Pray, Walker, Jackman, Williamson & Marlar of Tulsa, Oklahoma, heading up their Oklahoma City office from 1994 – 2000. He was appointed as a Special Temporary Judge of the Court of Appeals of the State of Oklahoma in 1991. He served as a Commissioner of Tourism and Recreation for the State of Oklahoma from 1991 -1992. He served as Chairman of the Oklahoma Indigent Defense System from 1992 – 1993. He has been a member of the Board of Governors of the Bar Association of the State of Oklahoma, and is a Fellow of the American Bar Association. Hank has received numerous awards and honors for his legal work, including the Distinguished Alumni Award from the Dean of Georgetown Law Center.
Hank participated on the ABA TIPS Plaintiff's Task Force, is a member in the Oklahoma Trial Lawyers' Association and the American Association for Justice, is a member of the Robert J. Turner American Inn of Court of Oklahoma City, Oklahoma (serving as its president from 2003-2004), and became a member of the Dean's Leadership Circle at the University of Oklahoma Law Center in 2011. He is a member of the Criminal Justice Act Panel, U.S. District Court for the Western District of Oklahoma.